Our unique self-service worksite management system significantly reduces your site access costs whilst improving site safety, compliance and reporting.
Benefits of our
WORKSITE
360
solution
Time and attendance records
H&S information and stats such as working hours, rule breaks, league tables, accidents, incidents, close calls, and plant problems
Automated reports sending you all of the information in the MacRail System to your email inbox, rather than going looking for it
Fatigue management alerts that are customisable to your project. Maximum working hours, door to door rules, and maximum weekly working hours
Control Reporting (issuing of production report to a customisable distribution list)
Co2 emission reporting reports
MacRail
Works Management System
Increase productivity and safety with effective worksite management. Our user-friendly MacRail works management system provides numerous safety benefits and reduces costs. Designed for site access staff, the MacRail system offers a complete end-to-end worksite management solution that is cloud-based and easy to use. It features time and attendance monitoring, staff competency management, PPE adherence, automated fatigue management alerts, real-time notifications, incident logging, induction management, plant and equipment registration, unauthorised access detection, and reporting and distribution to clients, among many other functions. With MacRail, you can effectively manage infrastructure worksites, ensuring compliance with regulations and improving overall site safety. The system is designed to be intuitive and easy to use, making worksite management efficient and hassle-free.
We understand that managing your workforce efficiently is essential for the success of your business. That's why we offer two options to suit your needs: Managed Service and Self Service
Managed Service
With our Managed Service option, we take care of everything for you. Our team of experts will provide you will peace of mind knowing that your workforce management needs are being taken care of by professionals, leaving you free to focus on project delivery. Viewer licences & automated reports come free with the service.
Self Service
Alternatively, if you prefer to take a more hands-on approach, our Self Service option is perfect for you. With this option, you can access the cloud based system with all the features and benefits while retaining full control over your project. Lite and Pro versions available.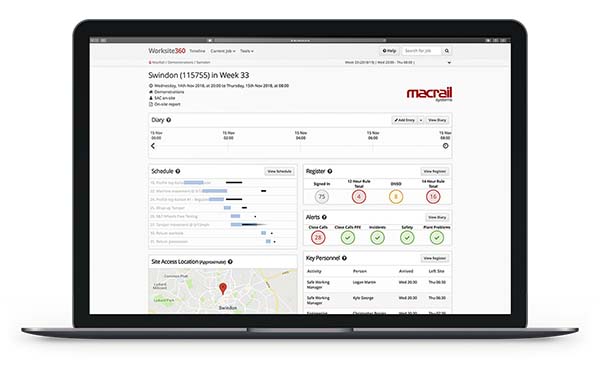 No matter which option you choose, you can rest assure that our workforce management system will help you optimize your workforce management.
Our works management system provides the perfect solution to your workforce. It not only saves you time and money by digitising numerous manual processes it also increases efficiency and productivity within your company.
Find out how you can transform site access management for your projects today.