Our Control Room services provide flexible 24/7 solutions to support your business with, safety, compliance and monitoring
Benefits of our Control Room solution
Competency Management Checks
The MacRail Control Room is a 24/7 cost-effective solution that offers a unique way to ensure safety, security, and compliance for your business. It allows you to manage and monitor who enters and exits your site and track project progress remotely.
The MacRail Control Room is customizable to meet the specific needs of your business, whether you need individual worker support or out-of-hours on-call management. It acts as a backbone for your operations, ensuring smooth and efficient management while prioritising safety.
Maintaining safety is of utmost importance since we all have a responsibility to protect those who work on the infrastructure. The role of Control Rooms is crucial in monitoring remote teams to ensure that they strictly adhere to safety guidelines. Control Rooms aid in promptly identifying issues and taking corrective measures to ensure timely project completion.
Furthermore, Control Rooms interact with various sources to remedy site issues, freeing up project teams to focus on delivery. Compliance is also critical, and a Control Room maintains time and attendance records, which track working hours and mitigate the risk of accidents caused by fatigue.
By managing remote teams, companies can regulate expenses by preventing time-sheeting mistakes, reducing revisits, and enhancing railway infrastructure reliability
More Information
The solution is the backbone of a business, ensuring operations are smooth, efficient and safely managed. The MacRail Control Room offers our clients the ability to manage site access, progress reporting and worker welfare all from a secure and remote-control room, based in the UK.
Our function provides an accessible and dedicated site access service 24 hours a day, 7 days a week, 365 days a year.
The facility can act as an additional support function (to the site access controller) for larger sites, or as the main source of site access for smaller sites not requiring a dedicated site access controller.
To effectively manage remote teams, communication is key, and a Control Room serves as a crucial reporting channel to keep senior management and stakeholders informed of site progress and issues that need attention.
With MacRail's Control Room, project progress and status reports are produced, and stakeholders can stay updated on developments without the need to be physically present on-site.
Reports are sent directly to stakeholders' email inboxes, providing a comprehensive view of project progress and hand back status.
MacRail can assist with this process allowing clients and stakeholders to have full control of their site while being anywhere in the world.
More Information
Our compressive reports can include possession times, production details between reporting periods, planned vs actual, plant issues, reasons for delays and recovery measures, shortfalls, accidents, accidents and close calls.
Our reports act as a live commentary of what is happening on site without the need for you to be in direct contact with Site Management which in turn allows them to concentrate on the task at hand.
Reports are colour coded depending on current site status and will indicate if the site is scheduled to be handed back on time or give you advance warning if there is a risk of an overrun, allowing you time to take mitigating action to avoid costly overruns.
The MacRail team work closely with site management to ensure reporting is accurate and all site information is carefully captured and recorded. We have also worked In collaboration with Network Rail to developed an innovative Isolation Reporting Service to improve worker safety and reduce the number of accidents and incidents on UK railway sites.
When using this service, isolation teams will be able to easily report disconnections along with having the option to submit photographic evidence. This reporting service allows rail organisations to keep the staff that are maintaining, enhancing, or renewing the railway, safer.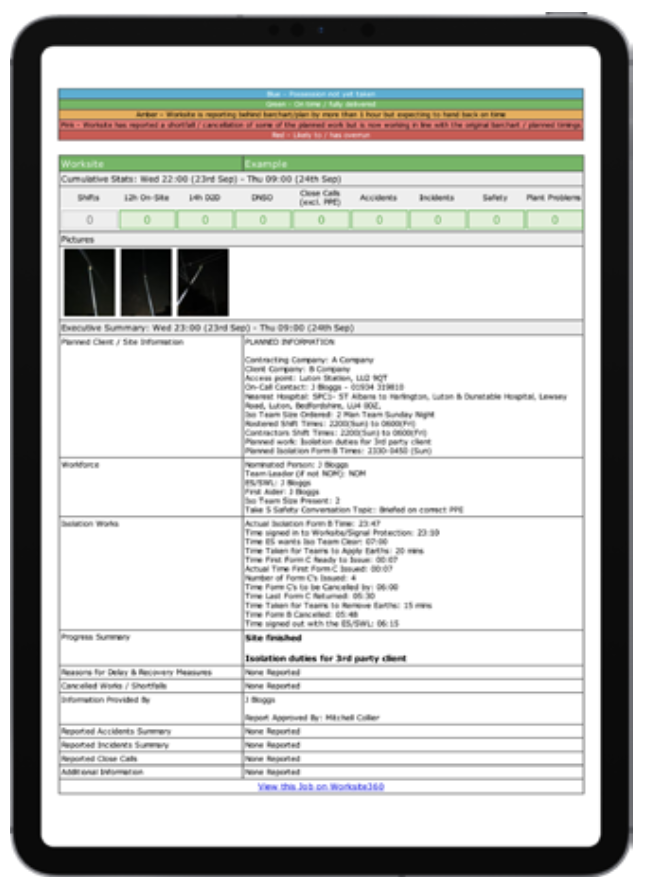 Whilst our NWR progress reporting and isolation reporting templates come as standard, due to our inhouse development team we can develop a reporting template to suit your project requirements.
Our Control Room software provides the perfect solution to your workforce. It not only saves you time and money by digitising numerous manual processes it also increases efficiency and productivity within your company.
Find out how you can transform site access management for your projects today.