Our Command & Control Vehicles provide flexible and safe site access solutions, reducing the hassle of site welfare deliveries.
Benefits of our command and control vehicle
Runs off eco-friendly methanol fuel
Capable of 4 weeks of continuous use
Satellite connection available for those limited data areas
Equipped with wind out awnings
All round led lighting and ticker tape messages
Set up in minutes, anywhere needed
Drives onto site on the first shift and off again on the final shift
Equipped with A boards and critical safety kit such as defibs and responder trollies.
Command & Control Vehicle
The go to solution for emergency works and short Possessions that take the pain out of ordering and taking deliveries of traditional welfare cabins.
The Command & Control Van service has been designed with the Principle Contractor in mind, they turn up with the Site Access Controller at the start of the job and off again on the final shift, removing the costly delivery fee's and time taken to arrange and accept the delivery.
The vans come equipped with defibrillators, emergency responder kits such as fire, first aid and spill kits and A boards promoting site rules. They can also bring additional kit to site on request such as radios, facial recognition, site signage, and anything else you require for a mobile and fast response site set up.
We have a long history in supporting some of the most recent major emergency works, normally providing the service in a matter of hours.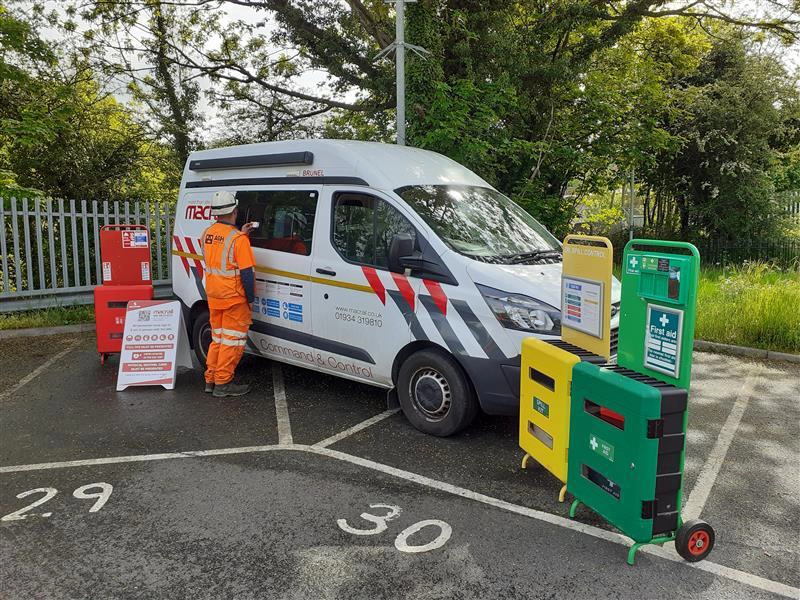 A couple of examples include:
Nuneham viaduct
During the Easter weekend the MacRail team were called out for emergency works at Nuneham Viaduct. Balfour Beatty requested the use of our SAC and Command & Control van service during days while they scoped out the repairs works, supported by our lone worker service on nights through our 24/7 Control room until the project went 24/7 with SAC and Command & Control Van.
Doncaster derailment
Contacted by NWR in the early hours of the morning to attend a major derailment in Doncaster. The request was for a SAC, Command & Control Van with emergency responder trollies and defibs. Deployed in a matter of hours to control the access and egress of the site.
Salisbury derailment
Contacted by Colas Rail to provide emergency site access control due to two trains colliding. The MacRail team arrived on site with a SAC, van and emergency kit within a matter of hours to help control site access.
Sheffield freight train derailment
Contacted in the evening by the Central Rail Systems Alliance to provide our mobile site access service at 07:00 the next day. We mobilised quickly and controlled the site access, checked PPE, provided safety briefs and ensured compliance with the Network Rail fatigue management rules.
Sittingbourne landslide
An emergency 15 day blockade due a landslide in the South East. MacRail sprung into action and mobilised in a matter of hours providing a Command & Control van and responder trollies, a welfare cabin, radios, walkways and site signage.
Our command & control vehicle services are the perfect solution to your workforce. It not only saves you time and money by digitising numerous manual processes it also increases efficiency and productivity within your company.
Find out how you can transform site access management for your projects today.